About Ashen® Amps and our Custom Guitar and Bass cabinets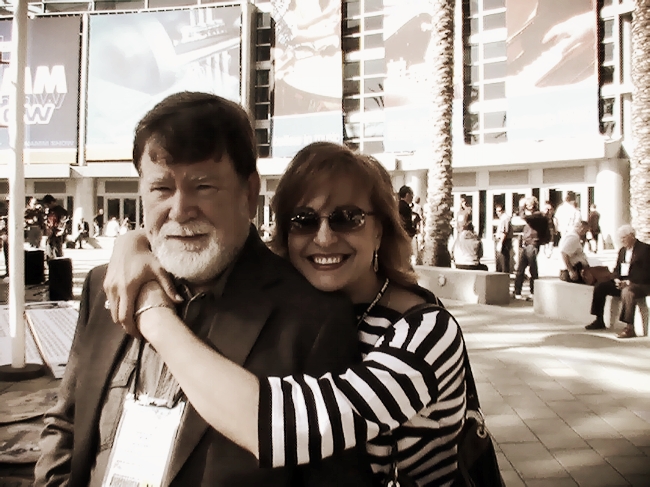 We're working for you to create YOUR unique signature Ashen® product that will inspire you. Please don't hesitate to contact us with your order or any sound or equipment related question, we'll be glad to answer them and to build the cabinet you've dreamed about.
Vitaly and Natalie
Ashen ® products are the result of over 50 years of devotion and experience in sound amplification. With a never-ending passion for the art and aesthetic of sound, our family run small company tirelessly works to design and hand craft our special design cabinets and amps, right here in Southern California. We want you to stand out of the croud with our products whether it's our custom cabinet or customized one-of-a-kind popular brand product. If you pay a lot of attention (and money) when it comes to your guitar then why would you neglect to care about look of your cabinet? You can have similarly beautiful (acoustically and aesthetically) cabinet which will benefit, emphasize, and extend beauty of your guitar. We constantly think about new designs for our products - away from boring and plain to unique and memorable, those that will raise your inspiration to the next level of artistry.
Our main misson is to build lightweight powerfull good sounding and beautiful custom cabinets which will benefit your performance and won't break your spine when you carry them to or from a venue. We invest a lot of care, love and passion into each and every cabinet we make and we care about your experience with them so we're always glad to continue to communicate with you after you purchased them to hear your opinion and notes if you have them.
Our goal is to build a society of people who care about sound quality, who's willing and ready to discuss questions about sound, cabinets, amplifiers, how to correctly use them, how to improve them, what compromises you will see in them and why. Contact us via our Facebook page, Instagram, or via our form here, we're always glad to hear from you.
Order process and how it works:
1. You contact us via email, text, call or Contact form on our website and explain your request
2. We suggest our options and pricing
3. We send you invocie after the pricing agreement is achived
4. We're in contact with you during every step of the process sending you pictures of the order status and discussing with you all available options for the next step so that you could choose what is preferable for you:
size/configuration

material selection, coloring

design pattern

hardware

grill cloth/grill kind

finish
5. After your confirmation the finished item is ready for shipping
* So, if you're looking for a company that is able to craft a beautiful and sophisticated made-to-order, custom guitar or bass cabinet of any configuration, we're right here ready and happy to do it for you.
* We can customize your favorite old cabinet or amp giving it a new unique look and new life.
* We offer professional repair/service of tube amplifiers and woofers at very reasonable price and with our warranty on our work
* We can also remt/lease a high-quality yet affordable PA system for venues of different sizes.